It's an event… a movement that will bring the community together to create a "Summer of Sonic" style convention in the United States. We're here to help unite not just the fans from the USA, but all over the world through local community meetups created by fans such as you.
We started out as a small event in an area who couldn't afford to attend SEGA's own event "Sonic Boom." Since our start it's become something more… something that has shown the fans that they don't have to wait for an event to come near them, but instead give those very same fans the drive to create their very own.
SEGA may have it's concert every year now, but the fans have a convention, and it's those very same fans who run them that make that convention an amazing experience. It's that very same convention that has shown time and time again that you don't have to live in the UK, or buy a plane ticket just to follow SEGA around the USA to attend Sonic Boom.
It's time that we step up…
It's time to start a revolution.
VIVA LA REVOLUCION!
Shayne "Sonic Remix" Thames
Co-Founder
Sonic Remix has been a Sonic fan for over 30 years. While a Sonic fan artist at heart, she is best known for her Sonic fan websites such as SonicUnderground.net , SonicAnime.net , Sonadow.com , and SonicRadio.net . She was the creator and founder of the first Sonic themed internet radio station, Sonic Radio, and has been known to once been the owner of SonicTeam.com , prior to transfer of the domain to the true Sonic Team. She is also known to help the Sonic community at large, and has done many things such as supplying TSSZ News with its first domain, hosting Sonic Stadium back in 2003, helped Sonic HQ, and is a financial producer of the Sonic fan film.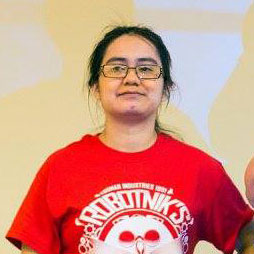 Lidice "Angelidia" Mendoza
Co-Founder
A native of Southern California, Angelidia is a regular forum member of JunSenoue.com and has been a Sonic fan since 1991. She was a former staff member for Anime Expo for a couple of years before moving on to volunteering other anime conventions. Whenever she's not playing video games, she enjoy watching anime and reading manga in her spare time. Also she's an avid collector of merchandize ranging from CDs to anime figures to video games.
Kevin
Panel Coordinator
Kevin has been a Sonic fan since 1991 and has been around the fan scene for nearly 25 years. He was a moderator and administrator of SonicAnime.net and volunteers for Sonic Revolution and Chaos Creators. (Wanting to volunteer for Sega and Sonic Fan Jam Remix in person event, but waiting for the form to open up)