Sonic Revolution 2023 in California has passed. This is an archived page. Join our public Discord server to get the latest news about upcoming Sonic Revolution conventions.
Christian "Kris" Dobbins
Christian "Kris" Dobbins is a freelance illustrator and character animator/designer in the animation industry. Kris enjoys working with stylish and unique characters and loves animating the little subtleties to help bring them to life. They are a lifelong Sonic the Hedgehog fan and have spent the past several years creating Sonic art in the hopes of achieving their personal dream one day. Kris also co-hosts Sonic Podcast Adventure with their friend Sean Aitchison. Kris's work can be found on cdobbinsart.com.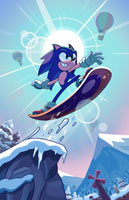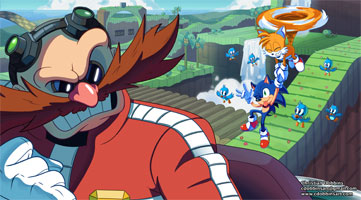 Kelsifer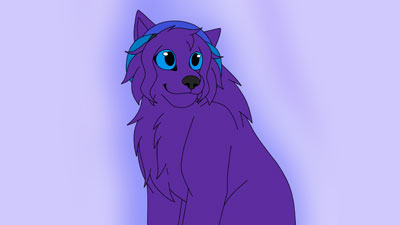 Kelsifer, also known as Kels, is a freelance digital artist/2D animator and a content creator on YouTube. She also does voice acting, writing, music composing, and gaming in her spare time. She has been a Sonic fan since she was 7 years old and began doing art and animation in late 2018. She specializes in drawing Sonic, wolf, and cat characters, but loves the opportunity to draw any creatures/species! She posts most of the animations she makes on her YouTube channel, mainly of her part(s) in different multi-animator projects that she has participated in. She loves being a part of the Sonic community, as she's met many talented and kind folks, and loves seeing all the passion and love that fellow fans have for the franchise! Her biggest goal in life right now is turning what she loves to do into a living and hopefully inspire other artists and animators! Commissions Sheet.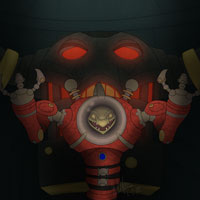 Mike Darklighter
Mike Darklighter has been learning Source Filmmaker for 7 years and shares animations around Sonic the Hedgehog, Freedom Planet and Crash Bandicoot. His favorite character is Tails and much of his videos have revolved around him. He has currently shifted towards creating a short series featuring Rouge and Fiona as treasure hunting partners.
MimiiPyon
Mimiipyon, also known as Pyon/Pepon, is a Digital Sonic Fanartist and Part time Vtuber. She enjoys making people laugh with her art by making a lot of Sonic "meme" drawings, but at times still makes room for more serious pieces. As a Sonic Vtuber, she enjoys showing her art progress to others and loves meeting new sonic fans. Don't let her cute artwork fool you!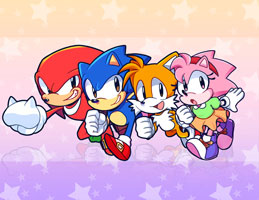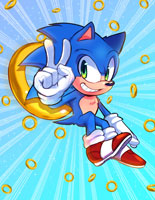 Noodalou
Noodalou is a freelance illustrator and aspiring comic book artist living in Reno Nevada. While her primary medium is digital art, she has been known to dabble in physical mediums with paintings and glass works. Her biggest inspirations include Jamie Hewlett, Takashi Murakami, Dean Cornwell, Adam Hughes, and the almighty Eiichiro Oda. Noodalou is the creator of the fan comic Silver 1763, and is striving to sneak her way into IDW one day. When Noodalou isn't drawing hedgehogs, she is busy watching anything animated with her birds and partner Grack.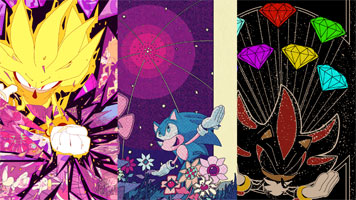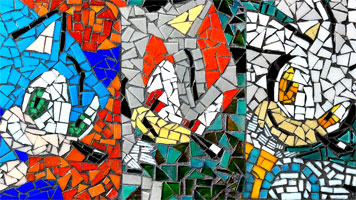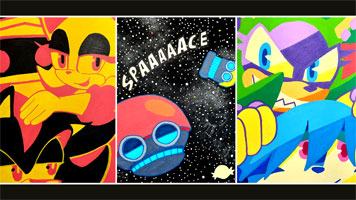 OcaRockaRina
OcaRockaRina has been two things since birth: an artist and a gamer. While her all-time favorite game is The Legend of Zelda: Ocarina of Time (hence her name), the Sonic series is one of the nearest and dearest to her heart. She first became familiar with the hedgehog as a kid in the 90's through watching 'Adventures of Sonic the Hedgehog' and playing Sonic 3 on her Genesis. Once she got Sonic Adventure 2: Battle for her GameCube, her status as a life-long fan was cemented. While she is always working on honing her own unique artistic flair, she also enjoys mimicking official art styles as an homage to the huge array of talented people who have worked on the series. Her work has even gained recognition from the very man who created and designed the hedgehog himself, Naoto Ohshima.
This will be her first-ever convention appearance, and she couldn't be more thrilled than to be spending it with the amazing Sonic community!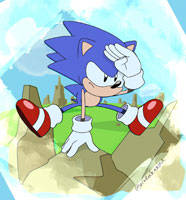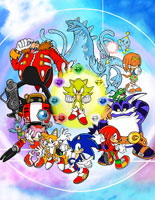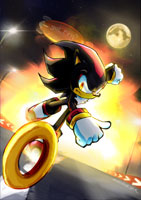 SegaMew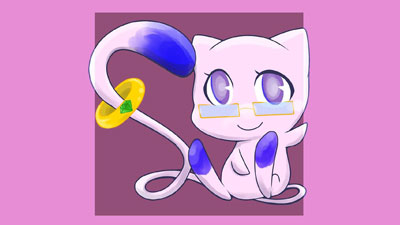 SEGAMew is a long time artist and mega fan of Sonic the Hedgehog for nearly three decades. She has contributed to the fan community from fan comics to fan films. In addition she also runs the store "Hidden Palace Games". She actively travels the country selling licensed video game/Japanese collectibles as well as products featuring her artwork. Feel free to follow her Instagram and Twitter @segamew.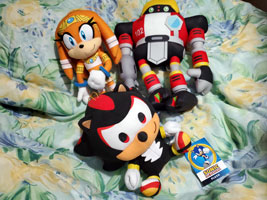 Snaggy Peets
Hello! Names Snaggy and I'm just a guy who loves Sonic and Pastel's. At my booth, you'll find and assortments of charms, stickers, origin prints and more! Stop by, I don't bite; hard~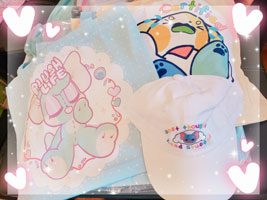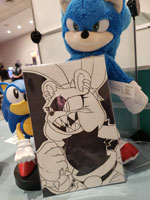 Sombaholic
Andy, known as Sombaholic, is an artist that makes merch based on video games and anime. Well known at events as the vendor who offers high quality Sonic inspired merch. She also works with Solbliminal, who helps her with recommending and creating merch. She will be attending Sonic Revo the first time and is super excited to meet the Sonic Community. Her dream is to be a full time Merch maker in the future.
SupaSilver
SupaSilver is a resin Crafter and Traditional sonic artist who's been drawing Sonic since 2004. She was first introduced to Sonic when she first played Sonic Adventure on GameCube at her cousin's house in the early 2000's. Ever since then, her life changed into a creative and artistic hobby. Her favorite inspired character is Silver the Hedgehog and still loves him till this very day! She enjoys experimenting, being creative, and making unique sonic art of all mixed media alike. She was also known for her art on deviant Art back in the 2010's actively creating all types of Sonic art, comics, and scenarios. She likes inspiring others and hopes to share her art with the sonic community as an artist this fall. This will be her first 'in-person' convention as an artist at Artist Alley. She's very excited to meet other Sonic fans and hopes they enjoy what surprises she has in the works at her table!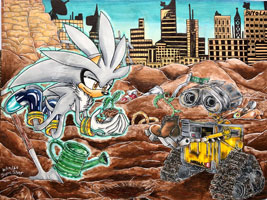 SuperSparkey
SuperSparkey is an American freelance artist that has been creating Sonic art since the mid 2010's. Her content ranges from digital illustrations to traditional watercolor paintings. When not working part time, she enjoys streaming her works on Twitch or chatting in Discord with friends. You'll find her most active on her Twitter and Ko-Fi.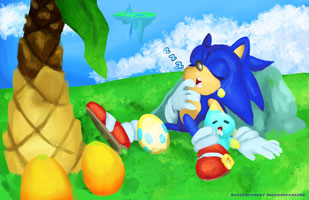 Tyler McGrath
yler McGrath is a freelance 2D artist and lifelong Sonic fan. He's passionate about replicating official Sonic art styles and always strives to make the best work he can. Tyler's freelance career began in 2014 and his experience includes concept art, storyboards, illustrations, graphic design, brand management, and asset creation. His hope at Sonic Revolution is to finally see a lot of his online friends for the first time and meet many more! Tyler's portfolios. Ko-fi.