Sonic Revolution 2023 in California has passed. This is an archived page. Join our public Discord server to get the latest news about upcoming Sonic Revolution conventions.
Tyson Hesse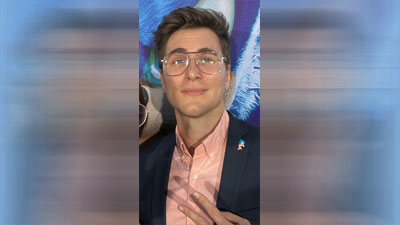 Tyson Hesse is an animator, illustrator, and director best known for his work across multiple avenues in the "Sonic the Hedgehog" franchise. He has written and directed many animated shorts for Sonic's official channels as well as several animated elements in Sonic's recent games. Most recently he was co-producer on the feature film "Sonic the Hedgehog 2", and was an instrumental part of the first film's creation as well. Currently he is directing the "Tails Tube" series of online shorts as well as the upcoming "Sonic Frontiers: Prologue".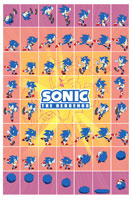 Adam Bryce Thomas

Adam Bryce Thomas is a comic artist currently working on IDW's Sonic the Hedgehog with a love of the intense action and thoughtful emotion the series is known for. In addition to drawing comics, Adam spends his free time expressing himself with watercolors and freelance illustration.
Daniel Barnes, Jr.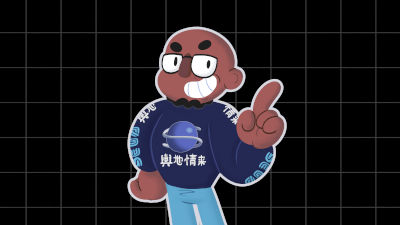 Daniel Barnes is a Washington-based writer who's currently working on the IDW Sonic the Hedgehog comics (which is a dream come true for him). His current Sonic contributions include the "Weapons" short story, from the 2022 Sonic the Hedgehog Annual, and the four-part Sonic the Hedgehog: Scrapnik Island miniseries. His previous comic book works include The Black Mage (an original graphic novel), Aggretsuko: Metal to the Max, and Aggretsuko: Stress Management — all of which were published by Oni Press. He also works as a narrative designer on Guild Wars 2, which just celebrated its 10th anniversary this year. You can usually catch Danny talking about Sonic and being annoying on twitter dot com.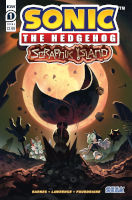 Gigi Dutreix
Gigi Dutreix is an IDW Sonic the hedgehog artist and writer for for SONIC THE HEDGEHOG. Additionally, is an inker for IDW Transformers. She has also done work for the tv shows Marvel's Hit Monkey and Archer as a background artist. Sonic Twitter Account.
Bill Freiberger
A graduate of NYU's Tisch School of the Arts, Bill Freiberger has written, produced and directed for television. A former stand-up comedian, Bill directed animation for the Emmy Award winning Pee-wee's Playhouse. He has written for such diverse comedies as "The Howard Stern Show"; "Get A Life"; "The PJs" (for which he was nominated for an Emmy Award); "Two Guys, A Girl, And A Pizza Place"; "The Simpsons" (for which he was nominated for an Emmy Award); "Greg The Bunny"; and "The Suite Life of Zack and Cody." He's been an Executive Producer and/or Showrunner for "Manhattan, AZ"; "3 South"; "Drawn Together"; "Warren The Ape"; and "Sonic Boom". Bill has appeared as an actor on "Manhattan, AZ" and "Warren The Ape" and as a voice actor on "Pee-wee's Playhouse", "Drawn Together", and "Sonic Boom".
Sam Freiberger
Sam Sandak Freiberger is a writer, editor, and director best known by Sonic fans for his work on Sonic Boom. He wrote several episodes of the TV show, one of the comic books, edited the entirety of the series, and directed the one and only live action shot in the show. A graduate of NYU's Tisch School of the Arts, Sam has worked as a writer on numerous animated series, beginning at age 11 on "Drawn Together", moving on to "Littlest Pet Shop: A World of Our Own", and "Legend Quest: Masters of Myth". He also wrote and directed a movie called "The Dead Enders" available on Amazon Prime. On the other side of the world, he tours with Europunk band "The Schkoots" in Cambodia as lead guitarist.
Alan Denton
Alan Denton is an animation writer who you probably best remember as one of the staff writers / story editors for the Sonic Boom TV series. He also did a bit of writing for the Sonic Boom video games, but let's not talk about those... Since his time with Mr. Needlemouse, Alan has written for properties such as "Lego Monkie Kid," "Transformers: BotBots," "Unikitty," "The Twisted Timeline of Sammy & Raj," and served as head writer on "Sunny Day" on Nickelodeon.
Greg Hahn
Greg Hahn is a writer of TV, animation, comics, and more! He is best known for his work as a writer & story editor on Sonic Boom, and has continued to bring his unique brand of action-packed, self-aware, comedy-forward storytelling to other animation projects, including Transformers: BotBots, Unikitty!, LEGO Monkie Kid, Sunny Day, and SharkDog. Most recently, Greg has broken through into the world of comic books, penning an original story for Batman: Urban Legends #18. Website.
Emi Jones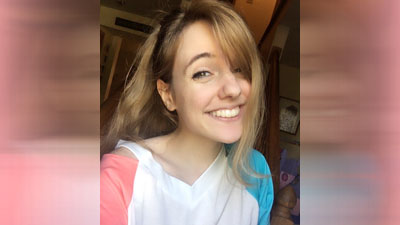 Emi Jones is a singer and voice actress known for her Sonic song covers on her YouTube Channel "EmuEmi". She is also known as the Director, Co-Producer and Voice of Tails in the series "Sonic and Tails R"!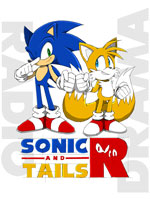 Ryan Drummond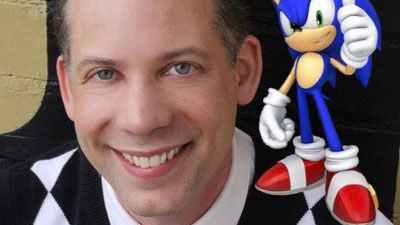 Ryan Drummond has been best friends with Sonic the Hedgehog for a quarter of a century. Videogames, commercials, and talking products, Ryan has lent his voice to the blue blur since 1998. Meeting all of you is his absolute favorite part of the job. Welcome to Sonic Revolution!!
Pete Capella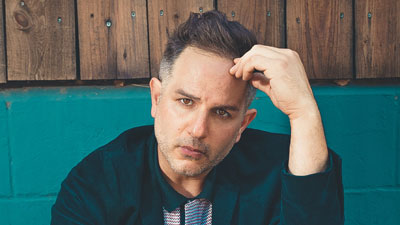 Pete Capella, the original voice of Silver the Hedgehog, has been a professional actor, improviser and storyteller since age 16; performing in over 3000 live shows and working in TV, film and voice over. In addition to the Sonic video games, Pete is the voice of multiple commercial campaigns, cartoons and Tanner Christensen in Most Popular Girls in School. Pete is also an accomplished producer and writer, as one half of Good Boy Treat Productions. When not focused on entertainment, he can be found surfing, painting, playing music or obsessing over his vinyl collection.
Jovialnightz
Jovi is a designer by day, artist by night. She's been drawing and helping in the Sonic community for over a decade. In 2017, she started the Sonic Artist Meetup, which later became Chaos Creators: Sonic Arts Festival. From hosting events, to drawing, to helping with Sonic events across the US, catch Jovi if you can bouncing her energy across the community.
Phoenix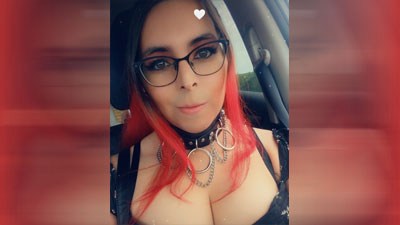 Phoenix is a community member specializing in Event Coordination, Project Management, and Logistics. She has over half a decade of Event Organization and Coordination as well as a decade of experience being immersed in project management. She spent a lot of her earlier years focusing on executive production overseeing quality on collaborative projects within the Sonic Community. In her more recent years she has focused on working operations for multiple Sonic and Non-Sonic Conventions, Events, Online and Offline such as Chaos Creators TX.
Adrenaline Dubs
Adrenaline Dubs is a comic dub project with a high quality priority. Voice acting, sound design, video editing, you name it - all of the people behind this have something to bring to the team, and are committed to giving you that sure-fire rush of adrenaline. Right now, they're heavily focusing on the IDW and Archie comic series. Sometimes, they dub short-form comics by artists in the fandom - granted they get their blessings! On rarer occasions, they create some original content- entirely in-house!
With CallMeRyan, BlueSpeedMouse, 321pietime, abluemoon88, Techno Cinema, and GhostAnjo.
AvaArcticFox
Ava is a hobbyist writer best known for their fan comic "Tangle & Whisper: New Roads." Based in the IDW Universe, it features the new fan favorite characters Tangle & Whisper, and follows them on their adventures after the dreaded Metal Virus arc - With a Twist!!! Ava was also part of the "Mischief" Sonic Villains Fanzine, and is one of the managers of the "Sonic Fan Annual" Zine. The "Fan Annual" brings together many fans to create their own mini comics & stories set in the IDW-Universe, with "Year 2" coming this summer!
Being a fan of Sonic ever since playing SA2B at a friend's house and finding an Archie comic at a beach convenience store, (wild issue #114,) Ava has been a fan of the blue blur and his friends for most of their life (with a small break in the middle to focus on school.) They're favorite characters include: Tails, Whisper, Tangle, and Nicole, with their favorite games being Sonic Adventure 2 and Sonic the Fighters! Ava is now busy with Issue #2 of "New Roads," involved with a Dub for "New Roads," as well as a secret project hoped to be revealed soon that Post-Reboot Archie fans may be interested in!
Special Thanks to my team: @Raitochan3 / @RNemrick / @megu_art_ / @Acesential
Translation Help: @DrStarline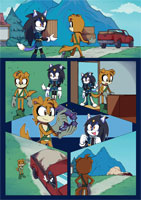 Balena Productions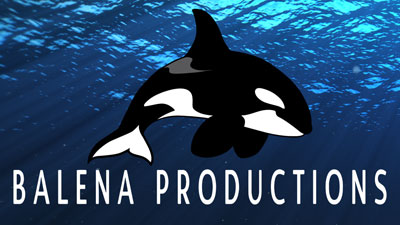 Balena Productions is a Sonic YouTube channel that features many different Sonic animations. With over one million subscribers, Balena Productions is one of the most popular Sonic content creators on the platform. Their hit series such as "Christmas with Sonic", "Sonic in Scared Stupid", "Sonic Zombies", and more have entertained millions.
Jehtt
Jehtt is a YouTube creator who makes short-form gag dubs of Sonic games. His videos see Sonic and friends destroying Eggman's crypto mine, arguing about how to pronounce GIF, posting hot takes on Twitter, and more. With over 500,000 subscribers and millions of views across dozens of videos, it's no wonder that some people just call him "The Sonic Meme Guy." He's excited to meet fans at Sonic Revolution 2023!
Izzy
Izziibel, aka Izzy, is an online personality who focuses on creating content around Sonic the Hedgehog. She has hosted multiple creator events featured around the Blue Blur with some of the biggest creators in the scene such as Alpharad, Illymations, Drumsy, ScottFalco, SnapCube, and many more! She also dabbles in art and song covers, but she is mostly known for her voice work as Amy, Tails, and Charmy in Jehtt's Sonic parody videos. You can find her work on YouTube, Twitch and Twitter!
MugiMikey
MugiMikey is an animator on YouTube that specializes in traditionally animated Sonic parodies. He has created the "Sonic Meets" animation series, where Sonic finds himself in comical scenarios where he meets other versions of himself, or other pop culture characters such as Son Goku, Sora, and Steven Universe. He currently has over 400,000 subscribers and has garnered millions of views since he first joined YouTube in 2006. In addition to animating, he also really enjoys streaming and making art.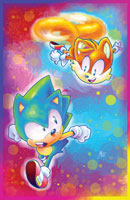 Axel Lazuli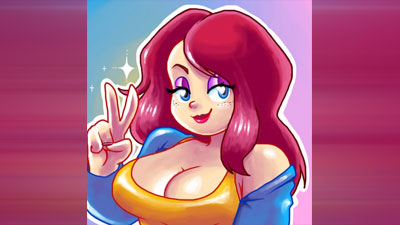 Axel Lazuli is an artist and writer celebrating video games through illustration and live streams. She is best known for beating all of the mainline Sonic games, including Sonic 06, in succession on stream for her nearly 8,000 subscribers. When she isn't creating content, she enjoys traveling and meeting new people.
SonicSong182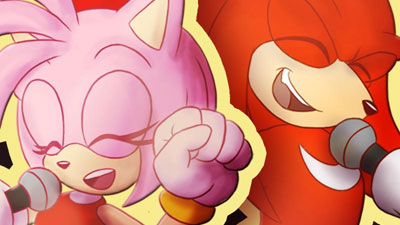 With over a decade in the online space, SonicSong182 and her team focuses on creating a sense of narrative in the Sonic Community. From her "Fun Friday" livestreams to the popular "Ask the Sonic Heroes" series, Kn and her team continue to create memorable moments between fans and their beloved Sonic characters.
OVAS
OVAS, aka. Omni Voice-Acting Studios, is a YouTube channel known for comic dubs and audio dramas lead by VoicesOfNathan, SparkyRaptor, Wolfblade93, and PCShnun. They cover a range of material from the "Sonic Channel 2021" shorts, stories of their D&D party, and their most well known series "Mew & Mewtwo". When not working on videos, the team can be found streaming on their Twitch channel. Often playing a video game or hosting their D&D campaigns on Tavern's Deep. While finding a home in OVAS, the voice actors have been known to collaborate and provide their talents to other creators including SonicSong182 and Adrenaline Dubs.
With PCShnun, Wolfblade93, SparkyRaptorand, and VoicesOfNathan
Drawloverlala: Sonic Comics [Comic Drama]
Cute Couples Get in Free [Sonic Channel 2021 March Story – Sonic X Amy]
Mew & Mewtwo by TC-96 COMPILATION #3 [Comic Drama Compilation]
w/Arion Miitoons Rashad &
Erenaroonie
CallMeRyan21
abluemoon88
Sonic Villains: A Sonic Fanfilm is an action-packed 2D animated feature film of MULTIVERSAL proportions for the whole family!! Taking place after the events of Sonic Forces, Dr. Eggman uses the last of the Phantom Ruby to recruit villains from across the entire Sonic Franchise (Underground, X, AOSTH, Boom, OVA, Archie & Fleetway) to end Sonic's winning streak PERMANENTLY!
Enter dorky teenage genius & rookie Freedom Fighter, Tekno the Canary (Fleetway), whose inventions can't seem to stop making mistakes that endanger her & her loved ones! When her universe's Sonic is kidnapped & used for evil, Tekno & her best friend Shortfuse the Cybernik must travel the the Prime Dimension to help Sonic Prime face this multiverse-shattering war! Can she embrace the beautifully gifted girl she is & learn to love herself, flaws & all, or is Eggman's plan for reality warping control an easy one?
A loveletter to the beautiful, colorful & messy franchise we all adore, this film connects every interpretation of this lovable blue hedgehog to tell a story about Self Worth & to remind you of how much you matter.
PaulyB
Pauly B is currently the music director for Sonic Paradox project, Sonic Legacy. He is also an official member of the SEGA Stream Team on Twitch, taking part in carious events like GameBlast and SEGA Pride. He's been writing and remixing music, mostly pertaining to our speedy blue hero, since 2006. His music has made appearances in various projects including Sonic Paradox, Sonic Stadium, various Newgrounds projects, and even The JonTron Show. His dedication and positivity in the Sonic community is his most well-known factor, helping out with various events like Sonic Revolution and Chaos Creators. His main ambition is to one day write music for SEGA/Sonic Team officially.
Victor McKnight
Victor McKnight is a producer, songwriter, and artist, who's work is based solely and inspired by pop culture – most namely video games. He has amassed a strong presence within various franchises for his original works inspired by series' within said franchises. Such works include his original song inspired by classic Sega franchises, such as Sonic the Hedgehog and Super Monkey Ball.