Check out the artists in our 2022 Online Convention Artist Alley! If you'd like to sign up for a spot, just fill out the form here.
TheChaosSpirit and Mr. Pasquale
TheChaosSpirit
TheChaosSpirit, otherwise known as Cess, is a freelance illustrator and variety streamer from Houston, Texas who creates content for multiple franchises, but has a special love for the Sonic the hedgehog series! Typically portraying herself with her VTUBER avatar, she streams Sonic, Nintendo and other games on her twitch channel often on her off time- particularly sonic adventure 2, her favorite Sonic game. But she spends the majority of her time working as a full time artist. She's worked for and collaborated with many creators and influencers from in and out of the Sonic community and takes special interest in creating cute, small merchandise on her etsy shop and at conventions like Sonic Revolution, both online and in person!
Mr. Pasquale
Mr. Pasquale, or Alex, if you have a hard time pronouncing it (we know you do), is a content creator on Youtube and Twitter that creates memes, edits, and funny YTP styled content. He has over 50k subscribers and has recently gotten into doing lets-play style playthroughs as well as discussion videos on his Youtube channel, on top of his regular content. He typically makes video game themed videos that are mainly centered around the Sonic the hedgehog series. He also works on the side as a freelance video editor for different content creators, most notably for Saltydkdan. And before you ask, his favorite Sonic game is also Sonic Adventure 2. That's why these two got married.
DrStarline
DrStarline is a digital illustrator from Venezuela who has been a Sonic Fan since childhood and part of the fandom since 2019. With a great interest in the villains of the franchise, their main focus has been making fanart for characters such as Dr. Starline and Dr. Eggman, in addition to designing fan characters that work for Eggman. Their love for villains and original characters has motivated them to create multiple animatics and comics, as well as participating on and hosting Fan Zines about the same topics.
Their goal is to become a cover artist for IDW Sonic one day, but in the meantime, they want to keep creating content of their favorite characters and thematics (Villains and anything involving Windmill Village) to share their love for them and inspire other artists. Toyhou.se. Patreon.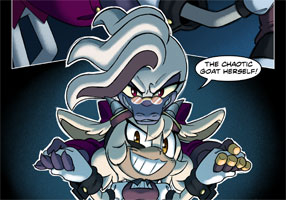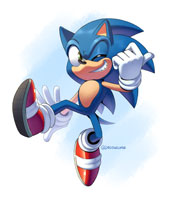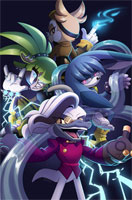 Gabs Sam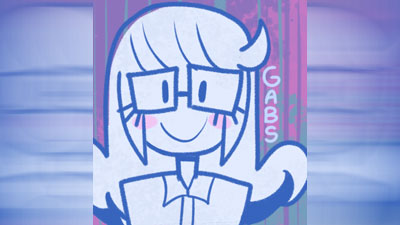 Gabs Sam is a Freelance 2D Animator, Storyboard artist, writer and comic artist based in Paraguay. In her free time, she loves to create silly Doodles, illustrations and animation about the Blue blur and provide a lot of content about her most favorite duo, Silver and Blaze, through Twitter. She has collaborated with many artists around the Sonic community including Emi Jones, SonicSong182, JovialNightz and Daniel Barnes. She currently works as an animator for Ollie & Scoops, offers online commissions and looks forward to keep having fun and providing more fun projects to the fan community--and maybe someday contribute with Sonic the hedgehog himself. Artwork Twitter Account.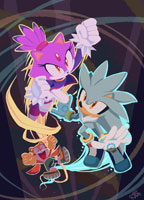 Hikariviny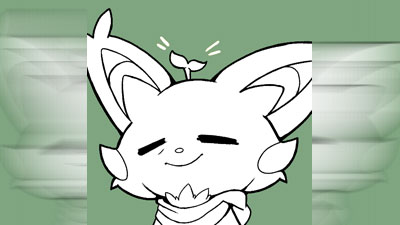 Hikariny is a Mexican/Lebanese freelance artist, with 6 years of experience in digital art, specializing in illustration and character design. They are a multi fandom artist, best known for their content related to the Sonic the hedgehog franchise. With their constant progress in their style, they seek to break into the professional field working for comic covers one day. They are mostly active on their Twitter and Patreon, where they usually post their artwork.
Jennifer Hernandez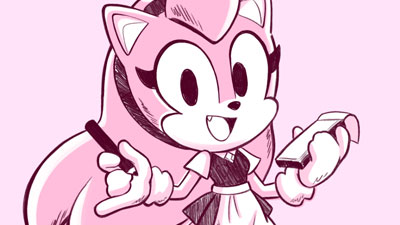 Jennifer Hernandez is a freelance artist who currently works on IDW's Sonic the Hedgehog as well as Papercutz's Casagrandes and Loud House comics! She has been drawing comics professionally since 2013, starting on the Archie Comics' Sonic series. Jen enjoys anime and hopes to get her own series off the ground! DeviantArt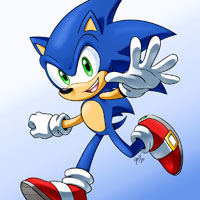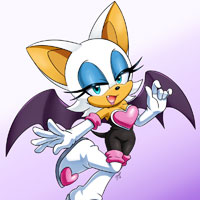 Jovialnightz and Phoenix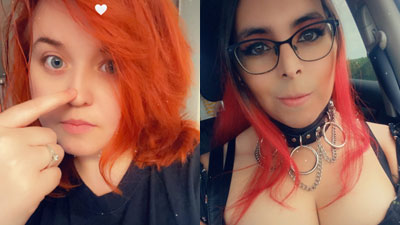 Jovialnightz
Jovi is a designer by day, artist by night. She's been drawing and helping in the Sonic community for over a decade. In 2017, she started the Sonic Artist Meetup, which later became Chaos Creators: Sonic Arts Festival. From hosting events, to drawing, to helping with Sonic events across the US, catch Jovi if you can bouncing her energy across the community.
Phoenix
Phoenix is a community member specializing in Event Coordination, Project Management, and Logistics. She has over half a decade of Event Organization and Coordination as well as a decade of experience being immersed in project management. She spent a lot of her earlier years focusing on executive production overseeing quality on collaborative projects within the Sonic Community. In her more recent years she has focused on working operations for multiple Sonic and Non-Sonic Conventions, Events, Online and Offline such as Chaos Creators TX.
KaiThePhaux
KaiThePhaux is a long-time member of the Sonic art community. She specializes in drawing original characters and loves getting to know the character and their creator. It's not just about the character's appearance, it's about what they stand for!Kai prefers Sonic and anthro characters to draw, but she also loves a good challenge; she invites complex characters and mecha with open arms. Come chat with her! Share your journey!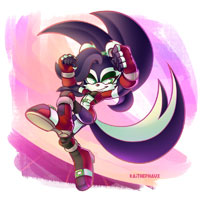 Mightysen
MIGHTYSEN is an artist, streamer, and dreamer that hails from peachy keen Georgia. Some of the many inspirations that spark Sen's creativity are video games, anime, 90's nostalgia, cute characters, vivid colors, and of course, Sonic. Combining their talents and passions, Sen has worked on projects with many prominent creators in the Sonic community, including Victor McKnight and Emi Jones. Sen's greatest sense of enjoyment comes from bringing colorful, whimsical, and nostalgic dreams to life in the form of art. If they can make you smile with their work, their mission is complete.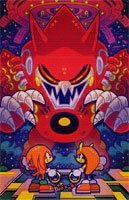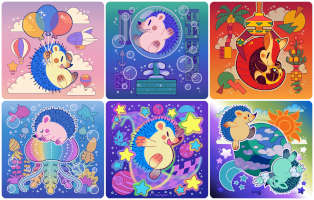 Mikayla O'Halloran
Mikayla, more commonly known as V4N4NITE online, has been a digital illustrator since 2017. Her passion for the Sonic franchise goes back as far as her early childhood, and the community has been an important part of her life for several years. Her work mostly revolves around the appreciation of Sonic fan characters in the community. She aspires to one day be a storyboard artist or character designer for IDW and contribute to larger projects within the Sonic community as a whole. Commissions Site. Patreon.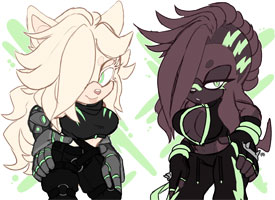 MimiPyon
Mimiipyon, also known as Pyon/Pepon, is a Digital Sonic Fanartist and Part time Vtuber. She enjoys making people laugh with her art by making a lot of Sonic "meme" drawings, but at times still makes room for more serious pieces. As a Sonic Vtuber, she enjoys showing her art progress to others and loves meeting new sonic fans. Don't let her cute artwork fool you!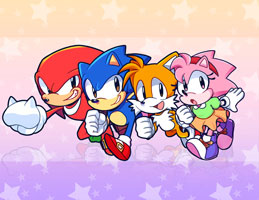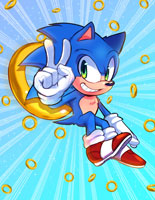 NiiGHTBURN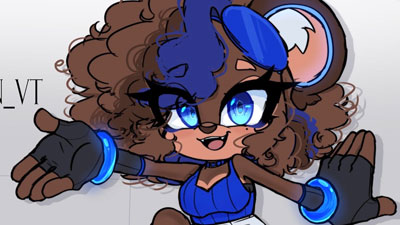 NiiGHTBURN is a Sonic The Hedgehog fan artist, Vtuber and fan-character designer most known for her designs or main fan characters Vincent the Black Cat, Ruby the Macaw and others. Her art typically consists of Rendered paintings and backgrounds or design concepts, and she is most active on her Twitters! (@NiiGHTBURN or @NiiGHTBURN_VT)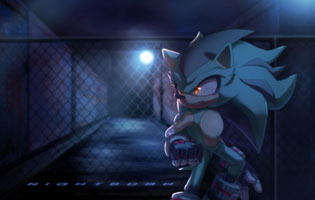 SuperSparkey
SuperSparkey is an American freelance artist that has been creating Sonic art since the mid 2010's. Her content ranges from digital illustrations to traditional watercolor paintings. When not working part time, she also enjoys studying Graphic Design, and even occasionally stream her works on Twitch or Discord with friends. You'll find her most active on her Twitter and Ko-Fi. Website.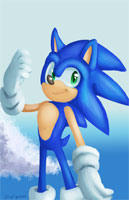 Vanessasonica
Hello there! I'm Vanessasonica & I'm a freelance digital artist from Puerto Rico. I love to create different types of art but I mainly focus on comics & Illustration. I tend to emphasize my art more towards a certain blue hedgehog but I can create art for almost anything & get the job done. I believe I'm competent enough to get any job done but if I somehow can't due to the lack of resources/equipment, I'll be willing to learn whatever's necessary to get it done. I'm usually shy & reserved but it once you get to know me, you'll notice that I can be fun person to be around. I love memes & do obnoxious doodles of my friends to call them out. I also enjoy playing a vast variety of video games that honestly don't even mix together but here we are.